Good Morning Ladies!!
I hope you all had a wonderful Mother's Day...
I got to hang with my little one's
so it was very wonderful for me.
However,
My weekend seemed to fly right by.
I did manage to get in some quality painting time which was long overdue!
About a month ago, I had found a wood headboard and foot board for my son's room
and after much debating (with my husband) on the proper color scheme for our son's room,
we decided to paint it a bright and cheery orange.
His walls will be a wonderful shade of blue/aqua.
to give it that tropical feel we were wanting to achieve.

Here's a shot of the bed before painting
and here's the after...(pardon the Spongebob bedding.
I am still on the lookout some new sheets for his room.)
Did you do any painting this weekend...or perhaps some fun DIY ideas?
I'd love to see!!
In order to post your projects, please make sure to include my button
(to the right) on your post somewhere...or at least on your blog.
Also, don't link to your giveaway.
Only the project.
I will pick 2 projects to feature on my blog that I feel were the best!!
I linked up at the following sites....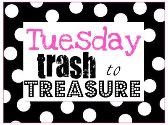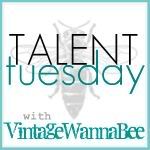 http://todayscreativeblog.net/